I browsing the Internet for showers as our electric shower has finally given up the ghost,  (meaning the whole house is having to put up with freezing cold showers in the meantime) I came across some cool shower curtains which got me thinking about updating our Bathroom Decor. I'm in a bit of a pickle now and this has caused so many arguments over the last few days, just over shower curtains! I like quite a few of these lovely and some even strange shower curtains, but I can't decide which one to get.
Hubby doesn't want anything too girly (which isn't a problem with me really) and I don't want anything too expensive because they do eventually get ruined by mould and I don't want anything too childish. Which of course would be what my little girl would like.
She would love a Mickey Mouse one, I'm not keen. She also pointed out Dolphins and Rubber Ducks, but I said no and now the pet lip has come out…
I, of course would love something gruesome or scary, but it would frighten my little one too much and she already has nightmares!
But here are some Cool Shower Curtains that you could consider…
London Underground shower curtain, a bit tacky but I like it! Available from www.rockettstgeorge.co.uk priced at £35.
Marimekko Kaiku Shower Curtain


Source
This shower curtain would be great for all you tree hugger's or nature lovers out there and it looks brilliant with green accessories too. Available from www.alwaysmod.com priced at around $55.

Michael Jackson Shower Curtain

Source
Not only can you sing in the shower but you can move like MJ too, with this cool shower curtain! Not sure where you can buy this one, but would you want to? You may end up with MJ's Ghost singing in your shower! Try www.customizedshowercurtains.com they have loads of nice shower curtains
Blood Bath Shower Curtain

Source
This is the one for me, but I think it would scare my little girl. Available from www.fantastik.it priced at around 17 Euros.

Psycho Shower Curtain

Source
This one is just so cool. Not only will it offend your family and visitors but it'll scare the pants off them too. Priced around $20 it come with motions sensors, which when triggered play the Reee Reee Reee and the Scream from Psycho. What fun! Try http://www.thingsyouneverknew.com. may be still available from there
Peek A Boo, Scary Shower Curtain

Source
Would you creep yourself out all the time with this one….oh yes, especially when making a late night trip to the loo!! Available from www.urbanoutfitters.com (USA we think) priced around $28

Paris City Scape Shower Curtain

Source
For all you Romantics out there, this black and white Paris scene will really get you in the mood…
Available fromhttp://www.izolashower.com priced at $29
Happiness Shower Curtain

Source
This is available in Silver, Gold, Leaf Green and Violet From www.kontextur.com
priced at $180
Blossom Shower Curtain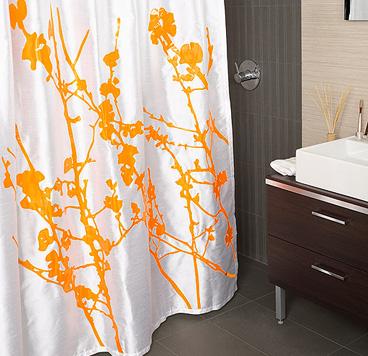 Source
This one is available in 6 Colours, Brown Taupe, Glossy White, Vivid Orange, Pink, Blue and Green from www.kontextur.com priced at $195
What about this Saucy shower curtain for the boys… This is available from www.sininlinen.com
priced around $39
Well if you are looking for lovely shower curtains to update your Bathroom, I hope this give you some inspirational ideas…
Demon Chick x